[Pole Shaft]
Extruded Fluted Aluminum, 6063-T6 Access Door: Located in base



[Anchor Bolts]
Anchor bolts are fabricated from commercial quality hot rolled carbon steel bar that meets or exceeds a minimum yield strength of 55,000 psi. Four properly sized anchor bolts, each with two regular hex nuts and washers, are furnished and shipped with all poles unless otherwise specified.



[Finish]
All exterior metal surfaces are mechanically cleaned to remove all oxides and contaminants prior to coating. The standard finish is a polyester thermosetting powder coating applied to the surface of the substrate to a minimum of 3 mils for all color finishes.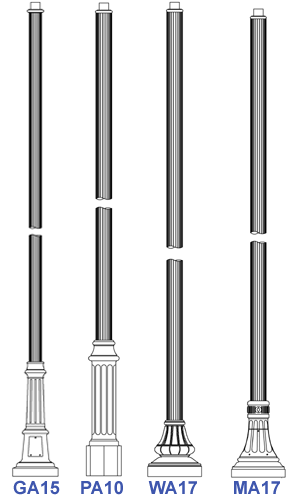 FINISH
P - Primer
BK - Black Finish Color
BZ - Bronze Finish Color
GN - Green Finish Color
GY - Gray Finish Color
LM - Natural Aluminum
WT - White Finish Color
CT - Custom Finish
MOUNTING DESIGNATIONS
3 - 3" x 2 1/2" TENON
4 - 4" x 6" TENON
SM2090 - For 2 Luminaire @ 90º *
SM10 - For 1 Luminaire
SM2180 - For 2 Luminaire @ 180º *
SM3090 - For 3 Luminaire @ 90º *
SM3120 - For 3 Luminaire @ 120º *
SM4090 - For 4 Luminaire @ 90º *


* Standard location for DM10 is 90º to the right of the handhole.


OPTIONS



OT - Open Top
PC - Pole Cap
XHH - Extra Handhole
WPRP - Festoon Opening
CPL - Threaded Coupling
NPL - Threaded Nipple
VDP - Vibration Damper Pads
LAB - Less Anchor Bolt
BASE STYLES
GA15 - Georgetown 15" Round
PA10 - Philadelphia 10" x 10" octagonal
WA17 - Washington 17" Round
MA17 - Manhattan 17" Round
WA13 - Washington 13" Round